Seems kinda shady.  
Pay a few bucks and some online "church" sends you a piece of paper that says you're ordained.
So is getting ordained online legal?
The simple answer:  Yes.
But the follow up question you should be asking is: 
Can you legally perform weddings once you're ordained?
Answer: Yes.  Usually.
Keep reading to learn the ins and outs of performing legal weddings. (After getting ordained check out a Guide to Officiating a Wedding.) 
Each State Sets the Law for Online Ministers and who can Perform Weddings
The good news – just about every state in the United States permits online ministers to perform weddings. Marriage laws through out the U.S. are basically the same.  But each state sets the rules about the legalities of marriage for its citizens (and occasionally the US Supreme Court gets involved with weddings).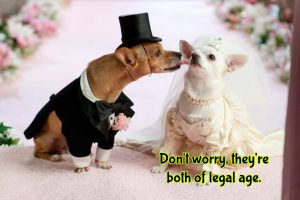 The individual states set the law related to:
the minimum age to marry

whether you can be married to multiple people,

what relation you can have to your spouse (1st cousin, 2nd cousin, etc.);  and also,

who can legally solemnize (fancy word for "marry") a couple.
In states that allow online officiants, there is language in the state statute that says something like,
(a) "Marriages may be solemnized by any licensed minister of the gospel in regular communion with the Christian church or society of which the minister is a member… (b) Pastor of religious society; clerk of society to maintain register of marriages; register, etc., deemed presumptive evidence of fact. Marriage may also be solemnized by the pastor of any religious society according to the rules ordained or custom established by such society." (I added  the blue color to highlight the important wording.)
In the above state law, any pastor of a religious society may perform a wedding. It's up to the religious society to decide who it ordains as a pastor or minister.  And therefore, can decide who gets to perform weddings under the name of the religious society.  
That means you, after being ordained by a religious society, can perform legal weddings recognized in the United States. Put another way, when getting ordained online, make sure you are getting ordained from a religious society.  
Wanderlust Bay Ministries is a religious society. 
So you can get ordained right now and perform weddings recognized through the United States.
GET ORDAINED NOW WITH WANDERLUST BAY (CLICK HERE)
But remember, every state has different laws and laws can change.  Which means you should call the county probate court where you live to confirm they permit online ministers to perform weddings.  And also confirm any additional requirements they may have for ordained ministers.
(For example, in Ohio, you have to register with the Secretary of State to perform weddings.  In California, you don't have to register anywhere.)
The County Courts Oversee the Marriage License Process
If you plan on performing a wedding, check in with the county probate court issuing the marriage license for the couple.  The county (or parish for those in Louisiana) sets the administrative rules for legal weddings in a given state.  The county creates the forms and requirements for properly filing a marriage license.  
Each county court houses the records of marriages and ensures compliance with state law. Many county courts will need you to provide a copy of your ordination papers before allowing you to perform a wedding.   And in some instances the clerk's office of the given county will require a Letter of Good Standing from the religious society or organization to verify you are still an active member of the group.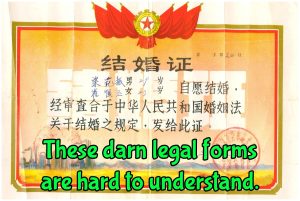 If you're about to perform your first wedding, you'll want to familiarize yourself with the marriage license…filling out some of these old forms can get confusing!
How to Ensure Your Friend or Family Member Can Perform Your Ceremony
Ok, let's say you want a family member or friend to perform your wedding. 
When you and your fiance apply for the marriage license try saying something like this, 
"Excuse me [clerk's name], my friend was ordained online and will be performing our wedding ceremony.  Do you need anything from him/her?"
The answer is often "nope, you are good to go".  
Or they may say, "Yes, please provide a copy of your friend's ordination papers".   And that's it.  
Here are the state statutes for who can perform a legal ceremony.
Alabama Alaska Arizona Arkansas California Colorado Connecticut Delaware Florida Georgia Hawaii Idaho Illinois Indiana Iowa Kansas Kentucky Louisiana Maine Maryland Massachusetts Michigan Minnesota Mississippi Missouri Montana Nebraska Nevada New Hampshire New Jersey New Mexico New York North Carolina North Dakota Ohio Oklahoma Oregon Pennsylvania Puerto Rico Rhode Island South Carolina South Dakota Tennessee Texas Utah Vermont Virginia Virgin Islands Washington Washington DC West Virginia Wisconsin Wyoming
Beyond knowing whether or not an online ordination is valid, there are a few other questions you may want to ask the clerk's office in the county court.
1. How long after wedding ceremony must the license be filed?  In Illinois it's 10 days.  Maryland within 5 days.
2. Can you perform weddings out of state?  For example, you are a licensed minister in Ohio and the Ohio couple wants to get married in Cancun.  Is this permissible?
3. Can you sign a foreign marriage license from another jurisdiction?  i.e. if you are ordained in Ohio but the couple's marriage license is from Texas, can you still perform the ceremony?
Look:
There isn't a lot of mystery to this whole process.  Marriages are an important and serious undertaking and most state laws are there to ensure that both parties have knowingly and properly entered into the marital relationship.
And while getting ordained online can seem suspect and possibly irreverent, most state laws wholeheartedly embrace online ordinations. 
And you should to.
So don't shy away from those questioning your authority.  You have every right to perform the most beautiful weddings in the world.
When you're ready to to become a minister… GET ORDAINED NOW (CLICK HERE)