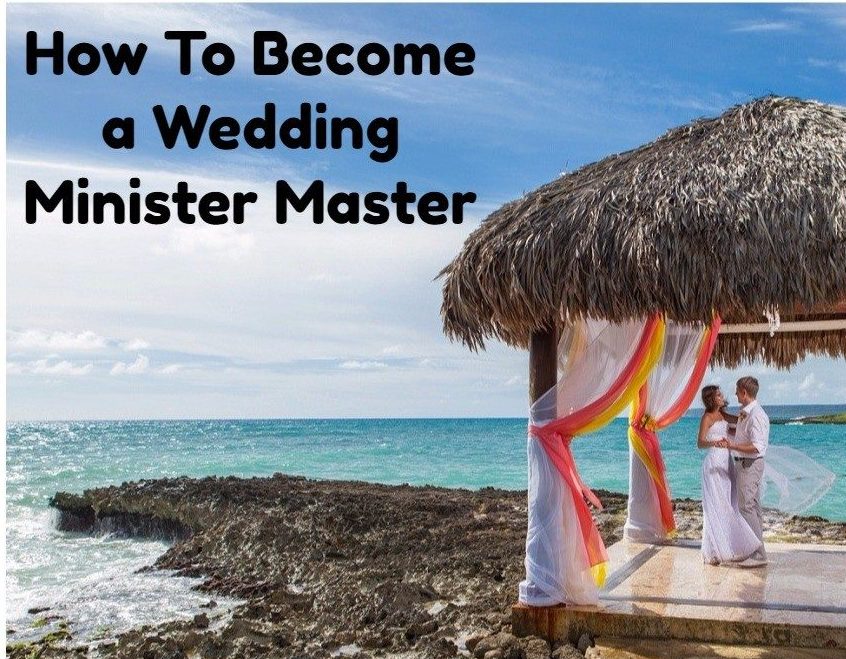 So you went and got your self ordained online…and you're about to officiate your first wedding.
Are you ready?    
I'm going to show you everything you need to know to crush your first wedding.
Now I'm guessing that when your Ordination Papers arrived in the mail, it was kinda like Ralphie from "A Christmas Story" finally getting his Orphan Annie Decoder Ring. 
You tear open up the envelope, giddy at the awesome power you now hold in your hands.
But just like Ralphie you soon realize becoming an ordained minister isn't nearly as sexy a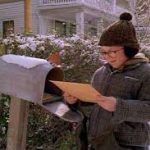 s you'd hoped…
(If you still aren't ordained, GET ORDAINED NOW (CLICK HERE) and perform legal marriages.)
But what if you could do something legendary with your new title as "Minister".  
What if you could deliver one of the greatest ceremonies in the history of weddings?
Well…this Guide will save you from mediocrity or even worse, save you from embarrassment.
After reading this Guide you will deliver a ceremony that stacks up against one of the greatest weddings of all time:
Anyway, here are the Steps to Wedding Greatness…
 

1. Have the wedding guests eating out of your hand in 60 seconds.
You want to perform the greatest ceremony ever?
No problem.  But know this:
It has almost nothing to do with the wedding ceremony wording itself.
Take a look at the video above from The Princess Bride.  What makes it memorable is not the words he used but how he said them.  
So the secret is in how you deliver the wording during the ceremony.  Seriously.  The words are almost meaningless if you you can't put on a show.
And to deliver the best ceremony, you first have to establish your unquestionable skill and dominance as the wedding minister.  You have to establish that you own the next 15-20 minutes of the wedding day.  
Those 15 minutes are yours.  Not the bride's.  Not the wedding planner's.  Not the mother-in-law's.  They're yours.
The caterer takes care of the food.  The florist the flowers.  The DJ covers the music.  The officiant controls the ceremony. Take complete ownership of it.
All the family and friends of the bride and groom are just minor players in your ceremony.  And they need to know they are mere spectators.
So strut to the front of the room or to the altar and assert your power.  
Here's 2 easy ways to assert your ministerial powers:  
a. Warm up the Crowd  
If you are good at ad libbing, spend 30 seconds chatting with the crowd before the ceremony starts.  Say hello to a few familiar faces.  Share a quick joke or witty remark.    
See the thing is, people are at a wedding.  They want to have fun and relax.  They will welcome your remarks and defer to you when it comes to decorum.  Keep it short.  And maintain control.  
Remember, the bride has no input over this part of the wedding.  She may have written the entire ceremony script, but she can't stop you from getting the crowd to love (and borderline worship) you.
b. Assert your authority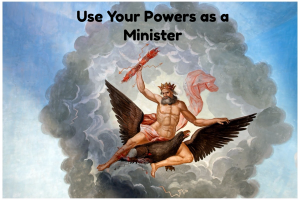 Everyone at the wedding is a guest and they want to act appropriately.  You will have de facto authority built into your status as the wedding minister.  Establish that power early.  My favorite way to establish my authority is to set the ground rules for the ceremony.  
Some thing like:
"Hello and welcome everyone!  We are moments away from beginning and I'm so wonderfully excited to be here!  Before we begin, I would like to ask you all to please mute or turn off your cell phones during the ceremony.  The most important think is to have you all present in the moment.  So if you could tuck your phones in a pocket or a purse, that would be great!  And finally, I'd like you all to sit back, relax and enjoy the show!"  
They will listen and assume your orders come from the bride, so you are safe with just about any demand.  Do it with warmth, but be firm.
*Remember, the trick is for them to listen to you, to be clear on your dominance and to feel just a little bit intimidated, if not awe in your presence. 
2. Wedding ceremony

 w

ording

 basics.
This might be hard to hear…but most people won't remember a single word of the ceremony 5 minutes after you saying "you may kiss the bride".  
So the ceremony wording is not really the most important part of the wedding. 
But even the greatest ministers and officiants have to cover the basics of a traditional ceremony.  
So here are the basics:
a. Introduction
This is the formal welcoming words.
"Hello and welcome to everyone today.  Thank you all for being here…"
This is a great spot to add a little flavor and color to the ceremony.  Unless the couple has given you the verbatim script for the introduction/greeting, take a little time to come up with something fresh and fun.  Unlike your "Warm up remarks" from item #1 above, this is more formal and is actually scripted.
An anecdote or story works well in the introduction.  Tell the people about how grateful you are to be officiating.  Or why the couple chose you to officiate.
During the introduction, you can include readings, poems and general thoughts on relationships, weddings, etc.
There are countless sites and examples with wording inspiration.
Try:
Ceremony Readings for a Perfect Day
OR
Check out Pinterest for tons of ceremony ideas
b. Declaration of Intent
Very formulaic section of the wedding.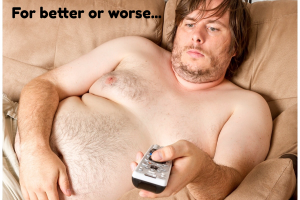 "Do you Frank take Sarah to be your wedded wife and will you be faithful to her so long as you shall live?"  "I do."

Very short, very simple.  You should have this memorized.
c. Vows
You absolutely must encourage your couple to write/recite their own vows.  Or, forget vows, have them both write a statement or letter to the other.  There's a good chance the couple will resist.  But try to win this argument.  Tell the couple that if you are going to officiate, they must write their vows or a "love statement" or say a few unscripted words to each other.
(For everything you ever wanted to know about wedding vow wording check out my guide to – Traditional Wedding Vows.)
Why is this so important?
It will give you a break and put all the focus on the couple.  And most important, everyone is going to get emotional.  It's impossible for grown adults to share their feelings so openly without getting emotional.
If the couple gets emotional, so will their family and close friends.  When people get emotional, they tend to feel all the love in the air.  And you know who gets the credit for all that love in the air?  You do.
Soak it all in.
d. Rings
You will either have the rings in your possession already, or you will ask for them at this point of the ceremony.  
You probably should get the rings before the ceremony and hold them on your pinky finger.  That way, you can avoid the lame and often uncomfortably awkward "joke" where the groomsman searches his pockets and pretends to not have the rings.
(Done perfectly, this little joke is mildly cute.  When done by most people, it's just annoying.  Don't let that happen during your ceremony.) 
As far as the ring exchange, make sure you know what you want to do here.  The cleanest, simplest way is to give the bride's ring to the groom first and have him repeat the ring wording after you.  Next, have the bride take the groom's ring and repeat after you.  
As far as the wording, keep it short, sweet, powerful and concise.  You should have this memorized.
"With this ring/I thee wed/wear it as a symbol/of my love and faithfulness."
The ring exchange and wording is where many first-time officiants fumble and look confused.  Take 2 minutes to practice it in your head or in front of a mirror and you'll be good.
e. Benediction
After the exchange of rings comes the Benediction or Final Blessing.  As the end of the ceremony draws near, you'll want to end with some more of your own words. Something grandiose and epic.  Maybe some final words of advice.  You are leading up to the big finale.
Whatever you come up with should be memorized or off-the-cuff.  
Your words should be a clue to everyone in the crowd that the agony is almost over and soon they will feast!  So again, short, sweet and powerful!  
"Sarah and Frank, we are almost finished, but before I pronounce you as husband and wife, I have a few final words for you…I hope today has been magical for you and that you will remember this moment forever.  I hope you cherish every moment of your life together…" and so on.
f. Pronouncement 
Finally, you get to say words to the effect of, "By the power vested in me by the state of _____, I now pronounce you husband and wife!  You may kiss the bride!"
And after they stop kissing and the clapping stops…
"It is my pleasure to introduce for the first time as husband and wife, Mr. & Mrs. _______!"
Ask the couple if they have a preference as to the format for the final pronouncement.  Most go with the traditional and use the groom's last name, but you've come so close to delivering the greatest ceremony in history, so don't blow it right at the end by offending the bride.
4. Keep the wedding ceremony under 20 minutes.
No matter how good you are as a wedding minister, after about 15 minutes, even the most sentimental and romantic guests in the audience will start to zone out and daydream about the buffet and wedding cake.
A sweet spot is between 10 -12 minutes.  Enough time to hit all the essentials, keep the audience entertained and ensure the bride and groom don't get too restless.
If the bride gives you a script that will extend beyond 15 minutes, find a way to include others in the ceremony.  Have a family member or friend read some of the ceremony.  It helps break up the monotony of one voice droning on and on.
5. What to wear when officiating a wedding.
Don't ask, don't tell.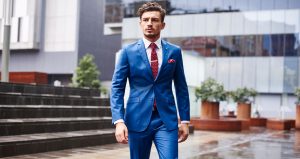 Unless the bride is micromanaging even the slightest details of the wedding, she'll probably forget to give you wardrobe requirements.  So make this your domain.  You're gorgeous…let your beauty shine through.
Find out what the wedding party is wearing and then use your incredibly good judgment.  You can never go wrong with a dark colored suit.  
If you're officiating on a beach, go with a lighter color.  You can also add a splash of color in your tie.
Aside from your wardrobe, your most important accessory is your minister's book.  I would spend a few bucks and find a nice leather binder…but not a full-size, 8×11.  Go with something smaller.  We like the selection of leather binders at Zazzle.
Remember your legacy as the wedding minister will be immortalized in the photos.  Don't stand up there with sheets of paper stapled together.
*Attire for the ladies, go with something conservative.  A pant suit, dress, or something else.  Ok, I have no idea what I'm talking about.  Just look sharp and appropriate to the venue and wedding party.)
6. Know basic wedding ceremony etiquette.
This is a huge topic.
There is no way to possibly get into every rule of etiquette without knowing the wedding location and venue, size of the wedding party, and the general tastes of the couple.
BUT, you should be thinking about the following items and be sure to have answers to them before you walk down the aisle:
a. the order of the bridal party
b. where everyone stands at the altar
c. how the procession will work after the ceremony
Here's a great start: wedding etiquette guide.
On the wedding day, it is going to be chaotic.  There will be 8 different people trying to give orders and figure out what to do.  Take charge.  Know the game plan and execute it.  People will toast you at the reception.
7. Essential wedding day skills.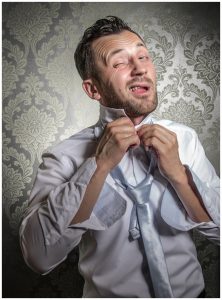 Here are items that every officiant should know.  Again, they demonstrate your skill and professionalism.  They might not come in handy on every wedding, but if you do more than a few weddings, you will use each one of these skills.  Learn them.
a. How to Tie a Neck or Bow Tie
Learn at least 2 ways to tie a tie.  The real trick will be learning the bow tie.  Every minister has encountered the 8 guys from the wedding party that have no clue how to tie one.  They're all standing in the bathroom with a YouTube video trying to figure it out.
Save the day.
b. How to Pin a Boutonniere
Not as easy as it sounds.  Especially when the groom is wearing a linen shirt and the flower is top heavy.
Imagine this…pinning the boutonniere on in the right place, at the right angle, without jamming the pin into your finger, all while 10 people are watching you and you have exactly 3 minutes until the ceremony starts.
Talk about a pressure cooker.
c. Cutting the Cake
(Maybe) You want to become a minister professionally?  You will be judged largely on your speaking and presentation skills during the ceremony.  But want to win the accolades and respect of all the vendors, planners and event staff?
Master the proper way to set up and cut the cake.
By this I mean, learn how to line the couple up for the cake cutting, how to hold the cake knife and give the couple instructions on how to cut it.  Very few wedding planners or staff members know how to do this properly and probably hate doing it anyway.  So take this part over – the photographer will be grateful and you will rule the day.
Here's a decent wedding cake guide for how to do it.
d. How to Serve Champagne
This is not a NASCAR race or locker room where champagne is sprayed on everyone in attendance.  This is a wedding. Champagne is supposed to be properly uncorked and served.  Some Champagne Cork Popping help.
8. The day after officiating your first wedding.
If you follow the advice I've discussed, officiating your first wedding will be exhilarating.  When it's finished you'll be like a junkie seeking out your next score. 
Quite frankly, I am afraid of how good you are going to be.
So please trust me and the process, by adding a few of the items from this list to your preparation, you will be better than 95% of the ministers, officiants, priests alive.  Master all of them and you will be one of the most sought after officiants in the world.
If your not ordained yet, GET ORDAINED NOW and get started on your path to performing a fairy-tale wedding.