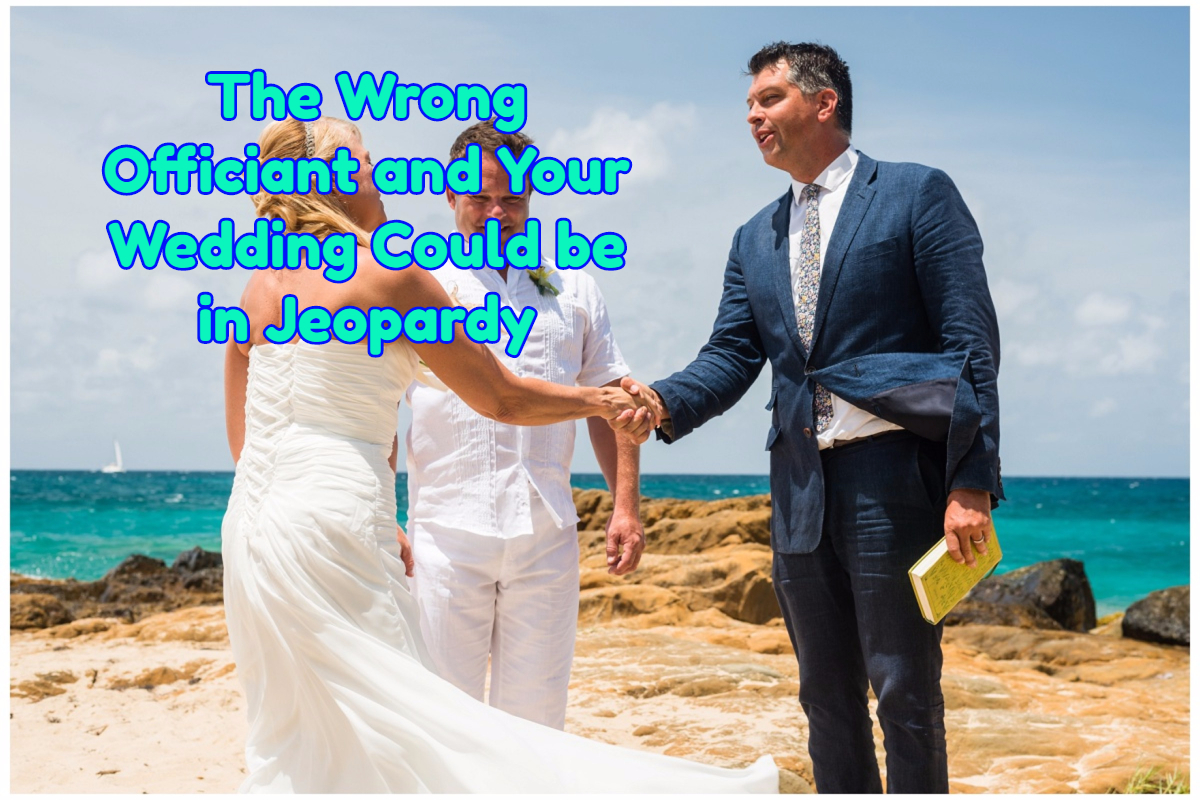 A quick story.
Recently I officiated a wedding at a major resort in the Caribbean. The wedding was black-tie and very formal.  The groom was from Germany and the bride was Chinese.  Their respective families were flown in from all over the world.  They hired interpreters.
There were more cameras and video equipment than a movie set.  I was pumped.  I love monster weddings.
I was prepared.  I had memorized a short poem the couple wanted read.  I had practiced the foreign pronunciation of their names and I had actually learned a few welcoming words in Mandarin Chinese.
I was wearing a brand new tuxedo my wife had bought me.  So I was ready to put on an Oscar-worthy performance.  I felt great.  I looked amazing.
And then, 10 minutes before the wedding, the wedding planner sees me and looks mortified.  She proceeds to tell me that my tuxedo jacket is exactly the same as the groom's.  Apparently the groom had strictly forbidden anyone else from wearing a similar tuxedo.  I'm not kidding.  (The groom had forbidden anyone else from wearing a tuxedo jacket with a satin, shawl lapel – A Tuxedo Lapel Guide, in case you were wondering.)
So now, instead of being confident and excited, I'm nervous since I can't stop thinking about my flipping tuxedo.  
Thankfully, as we lined up for the procession, the groom saw my jacket and was good-natured about it.  And I ended up digging deep and pulling out a top-notch performance.
So what I learned, is that even when you find the officiant you like, you better let them know about any fashion requirements!
*By the way, here's a selfie we took after the ceremony.  Not sure if you can make out the twin, shawl lapels. 🙂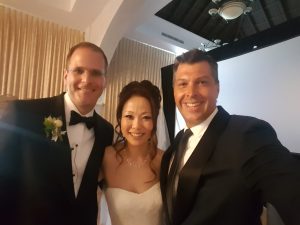 Ok, so you want to find the perfect officiant.
And you may have already guessed, but choosing your wedding officiant isn't the most thrilling part of planning your wedding.
I mean how can it be as exciting as wading through 17,000 images of wedding dresses on Pinterest?
But here's the good news:
Choosing a wedding officiant shouldn't take more than a couple hours.  And trust me, spending a couple hours will be worth it!
There are only 3 Steps.  And you must do them in this order:
Google Search (but do it this way)

Read Reviews (there's really only 1 site I recommend for reviews)

Call or Email them
1. Google Baby
Surprise.  The best place to start searching for a wedding officiant is by doing a simple Google Search.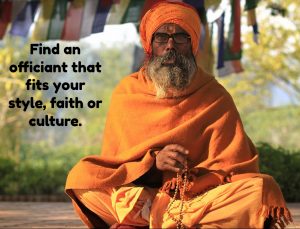 But don't enter just anything into that search bar.
Stick with the following search terms:
"Wedding Officiant + [Your wedding geographical location]"
"Wedding Minister + [Your wedding geographical location]"
By using these specific search terms you'll weed out most of the non-officiant wedding vendors…of which there are tons!
When you get your search results, stay away from listing services or review sites at this stage (and please avoid Craigslist).
For example, you'll inevitably encounter sites like Thumbtack,  Wedding Wire and The Knot.
The problem with a listing service or directory is that they list anyone that pays for advertising.  No skill required.
But you are not looking for a warm body that can read a wedding ceremony script.  I want you to be discriminating.  Find someone that is going to enhance and add to the beauty of your wedding.
So for now, focus on search results that direct you to an actual officiant's website.
The officiants that are ranked high on Google (on the first or second page) are there because they have been around for a while and also because Google thinks pretty highly of them.  Which is usually a good sign.
Ok, now start clicking on all the officiants listed on the first page or two of Google.
And at this stage you'll want to look for:
1. Someone that looks good
Your wedding officiant is going to be in your photos (and video)…forever.  Choose someone that fits with the look you're going for.
For example, some officiants wear a minister robe, while others might wear a Hawaiian shirt or tuxedo.
Try to find an officiant that won't stick out like a sore thumb in your photos.  You want a professional.  They need to look the part of a wedding officiant or minister.
Look at the pictures on his or her website.  Be vain.  Be critical.  Because you will have to stare at this person for 15 – 20 minutes during one of the most important days of your life!
2. Find someone that suits your personalities
Do you want a wedding officiant that is solemn and serious?  Or do you want someone more relaxed and personable?
The best way to find out the style/personality of a minister is to find video of one of their weddings.  Hopefully their website will have one.  If not, read the "About Us" page to get a handle on their presentation style.
I, for one, tend to be a little less formal.  I like a casual, relaxed ceremony. 
Anyhow, it's pretty easy to pick up on an officiant's style based on their website copy and photos.
Ok, so after looking at a dozen or so officiants, narrow down the search results to 2-3 of your favorite candidates.
2. Reviews
Grab the names of the few officiants that have made the cut and head to a wedding vendor review site.  Wedding Wire is the big dog review site in most geographical locations.
Now here's the trick: only read the 3 or 4 most recent reviews.  And make sure those reviews aren't older than 6 months.  If they don't have 3 or 4 reviews in the past 6 months, that means either they aren't that active or they don't have raving couples dying to write a review.  Either is a possible concern.
When reading the reviews, pay attention to what stood out about the officiant to the couple.
He was friendly.

He was easy to work with.

She was helpful and put the couple at ease.

She had a strong presentation style.
Now, look at the negative reviews.
Or the less than 5-star reviews.  Anyone that's been around for a while should have at least 1 or 2 less than stellar reviews.  It happens to everyone.  (Even I have a couple reviews that paint me as an evil and incompetent officiant).
But when reading it, understand that some complaints are forgivable…others not as much!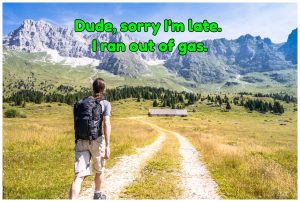 Comments might be a red flag:
The officiant showed up late.

The officiant didn't understand the basic etiquette and anatomy of a wedding.

No one could hear any of the ceremony.
Again, your officiant should enhance your wedding experience, not add to your stress.  So pay attention to criticism that make your blood pressure rise.
Ok, now after reading the reviews, hopefully you'll still have 1-2 officiants that stood up to your rigorous standards.
3. Contact Them
For the moment of truth.
Shoot your candidates an email, or better yet, jump on a call with him or her.  5 minutes is all you need.  Again, you're just trying to gauge their personality – are they warm, friendly, polite, good voice, etc.
It's how you'll get the best sense of their skill/personality as an officiant.
And let's face it, one of the central roles of the officiant is to not only be friendly, but to be an expert on wedding ceremonies.  You should be able to put your ceremony in the officiant's hands and feel confident.
When discussing your ceremony, if you get a lot of "I don't knows" and "that's not my jobs" from the officiant, then look elsewhere.
An officiant's role is to be the swiss army knife of your wedding vendors.  So try to find an officiant that, aside from being an officiant, isn't afraid to jump in an help with last minute details.
To give you a couple examples: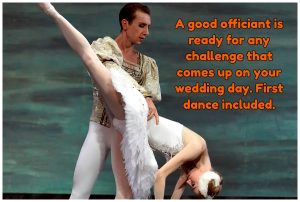 Tying a bow tie

Helping with the proper order of the procession

Pinning a boutonniere

A million other things…
The fact is, I've officiated weddings with some of the most highly regarded wedding planners in the industry and have had to step in because the wedding planner was busy elsewhere or didn't know how to set up a unity ceremony or cut the cake.
It's worth spending a little time on choosing the person to guide you down the road to wedded bliss.  But I wouldn't spend too much time on it…you have flowers and a dress to worry about. 😊