Here are The 5 Best Places to Get Ordained Online:
1. Wanderlust Bay Ministries
2. Universal Life Church
3. First Nation Church
4. The Church of Dude
5. Church of the Flying Spaghetti Monster
(*Full Disclosure: We included ourselves in the list.  Not sure it's allowed, but what the heck.)
For a full discussion on each, please read on.
Before we jump in, here's an important question:
Does it really make a difference where you get ordained?
The Answer:
No…and yes.
(Click here and you'll be ordained to perform legal weddings by the weekend.)
Truly, it's ridiculously easy to get ordained.  An online ordination means that in just about every state in the U.S., you can legally perform marriages.
And if that's all you care about, pick your poison. Any online ordination will do.
But how unbelievable anti-climactic.
On the other hand, there are a few differences between the various organizations.
But first, a quick story.
Back in the wild west days of the internet (circa 2003) I was searching around for somewhere to get ordained.  My brother asked me to perform his wedding.
In those days there were only a few options.  And my main concern was finding a real or legitimate religious organization.
The first ordination website I looked at made me feel like getting ordained was a scam.  Kinda like those ads on the back of comic books promising x-ray vision for $1.00.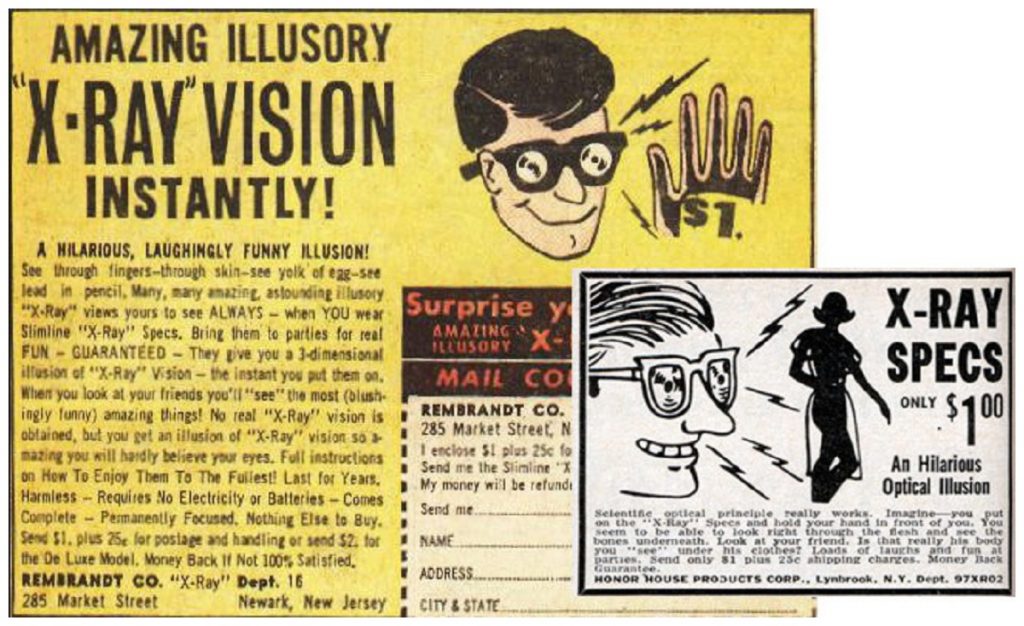 Call me old fashioned, but I always imagined becoming an ordained minister required a little work.
Not much, but at least some.
Anyhow, the first site looked scammy, so I kept searching.  Here's what the site looked like back then (courtesy of Way Back Machine):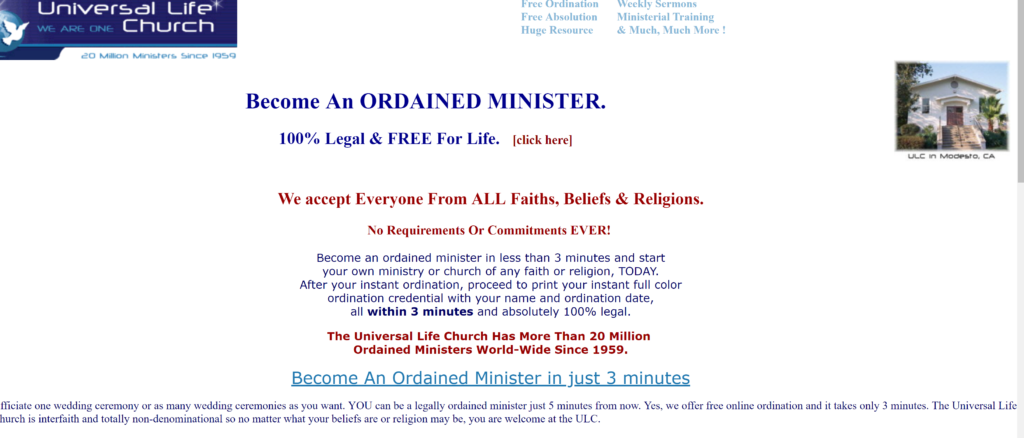 The next online ministry I found felt less fake. They seemed like a real organization and there were actually people somewhere that believed in something. Again, it might not have been much. But they believed in something.
So I went with the 2nd one, entered my credit card info, and received a certificate in the mail a week later.
Fast forward 10 years, and I'm performing weddings full-time throughout the islands in the Caribbean.  A couple wanted to get married on small island where I had never performed a wedding before.  The tiny little island required an original copy of my ordination papers.
When I went to find the church online, I learned they were no longer in existence.  Or at least I couldn't find them online.  Anyhow by then I had begun Wanderlust Bay Ministries and was able to ordain myself.  (Not really, self-ordination just sounds inappropriate.)
Oh, and the first website I had visited all those years ago that looked like an ad from the back of a comic book?  Well they're now one of the largest online churches in the world.
Anyhow, there are real differences between the few dozen religious/non-religious groups online.
I took the liberty of looking at them all and putting together a list of the best.
And now for a little information on each.
1. Wanderlust Bay
Cost: $39
Duration of Ordination: Forever
We here at Wanderlust are about a few simple things:  Life is short.  You should find joy in simple things.
We also think weddings are one of the greatest pleasures in life. And we believe every wedding should be unforgettable.
So we ordain people to make sure that happens.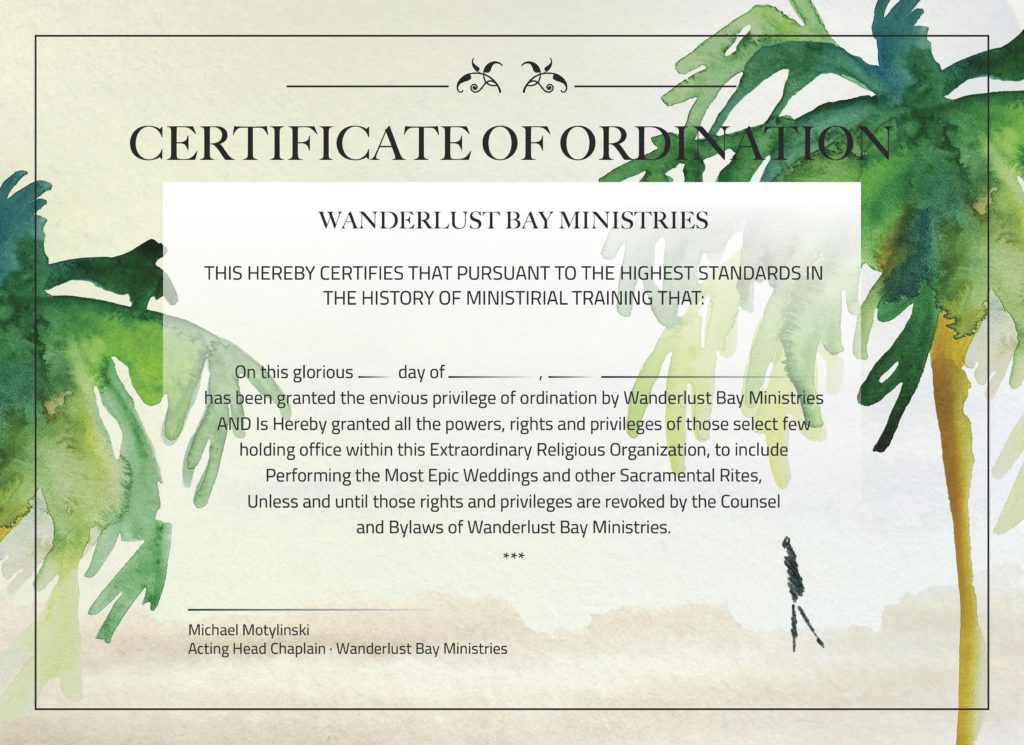 You can get ordained anywhere…
…but if you want to get ordained and perform the greatest ceremony in the history of weddings, well, you should get ordained with Wanderlust.
And we provide free training from one of the world's most prolific and talented wedding ministers in the world. So once you're ordained, you'll receive access to videos on how to officiate your first wedding.
Videos include:
1. Wedding Ceremony Basics
2. 15 Minutes of Fame: How to Deliver the Greatest Ceremony Ever
3. Look Like a Pro without Uttering a Word
Anyhow, we think weddings should be fun and your experience officiating easy, fun and exhilarating.
Getting ordained requires that you pay online and then we ship you the official documents the same day.  You'll receive immediate access to our video resources.
2. Universal Life Church ("ULC")
Cost: "Free" (but really around $40)
Duration of Ordination: Forever
This is the giant. The behemoth. The New York Yankees of online ministries. They are everywhere. I bet – if they kept statistics on this sort of thing – 84% of all ministers in the world are ordained with Universal Life Church.
At just about every wedding I perform someone comes up and asks me if I'm ordained by Universal Life.  They then proceed to tell me about their Uncle Herb who's ordained too.
I bet you could play the Kevin Bacon Game but instead go with people you know who are ordained by ULC and connect to anyone in the world in 2 steps.
If you want to get ordained by the church, you will find many different sites all offering ordinations with ULC.
https://themonastery.org
https://ulc.org
https://getordained.org
As best as I can tell, each site is run by different groups within the same Universal Life Church.
Universal Life Church calls itself a "non-denominational religious organization" that believes anyone and everyone should be allowed to believe what they want as members of the church. Wikipedia.
Getting ordained with ULC requires you fill out some basic information – your name and email. And you're ordained, for free!
In about 17 seconds I was ordained (screen capture of the email I received):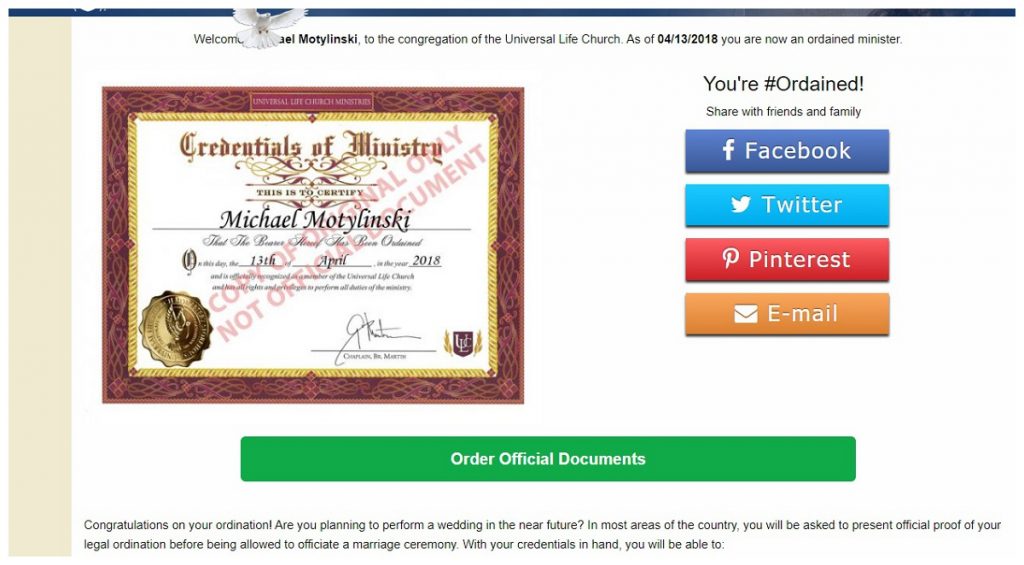 But that really isn't the end of the process. As you see in the small print at the bottom of the web page image, you have to actually order the official documents.
They charge $39.99 to get your ordination papers.   And you need ordination papers to legally perform weddings in almost all jurisdictions in the United States.
3. First Nation Church
Cost: $10.95 – $112 (Depends where and how long you want to be ordained)
Duration of Ordination: you can choose between 2 year, 5 year and 20 year terms
First Nation Church, also known as "The Official Church of Love", calls itself an "inter-denominational life celebration" ministry.
So it doesn't matter whether you're Jewish, Muslim, Agnostic or Atheist, you are welcome to the club.
When you are ordained with First Nation, you'll received:
1. Ordination Papers
2. Letter of Good Standing
3. Basic instructions on performing weddings
4. List of local marriage laws
5. A parking permit!
Some other stuff too, but the most important and useful piece is the ordination papers. The ordination papers give you the power to perform legal weddings.
What I do like about what First Nation Church provides is the list of the local requirements for the filing of a valid marriage license. For example, some jurisdictions require that you file the license within 7 days of the wedding. So they'll send you a fact sheet of the legal requirement for whichever state you are performing a wedding.
The information is nice, but you shouldn't rely on their forms as state and local laws do change and you don't want to be responsible for invalidating a wedding!
The only sure way to know the wedding requirements is to contact the court or office overseeing marriages and ask them the legal steps. Again, you don't want to rely solely on whatever form you receive from First Nation. Check with the local court.
And as far as the parking permit…well if it works, that might be the coolest perk ever!  Imagine: park where you want, whenever you want and never have to worry about a ticket again…maybe.
4. Church of the Flying Spaghetti Monster
Cost: $25
Duration of Ordination: Forever
Hats off to these folks. They have asserted their First Amendment rights, and can't nobody fault them for that.
This is a "religious organization" and is explicitly non-religious. Why should religion have all the fun?
This group is made up mostly of agnostics and atheists (as far as I can tell) that want to perform weddings. Although anyone can join Flying Spaghetti regardless of his or her personal religion.
Among their core-beliefs:
-All people are descended from pirates. Pirates being good people that have been mischaracterized by Christians.
-When you die and go to Heaven, there is a volcano made of beer and a factory that churns out strippers. Yes strippers. I assume both male and female strippers.
-What make Flying Spaghetti one of the best, is that they have an active community of folks, known as Pastafarians.
They also have their own logo and uniform.
Meaning if you want to really be hard-core Pastafarian, you can wear a colander on your head when performing the wedding.
5. The Church of Dude
Cost: Free (it's free to get ordained but to get a certificate they charge $35)
Duration of Ordination: Forever
Can I make a confession?
I've never seen The Big Lebowski.
It's one of those movies that for my generation, is the equivalent of Animal House from my parent's generation.
I do want to see it just to see what all the fuss is about. I've got it on my list of movies/tv to watch which includes Sopranos, Breaking Bad and Lost.
Someday.
There is a savvy someone that created an entire philosophy/religion around being "the Dude". You can only understand what that means if you've seen the movie and it helps if you've smoked large amounts of green leafy stuff.  The Church of Dude is not actually endorsed or affiliated with The Big Lebowski, just a really clever way some fans chose to honor the cult classic.
To get ordained you need only fill in your name, email address and agree to:
[U]phold the principles of Dudeism: To just take it easy, to be dude (easygoing) to everyone I meet, and to keep my mind limber.
After filling in the fields and checking the box, you will get this notification: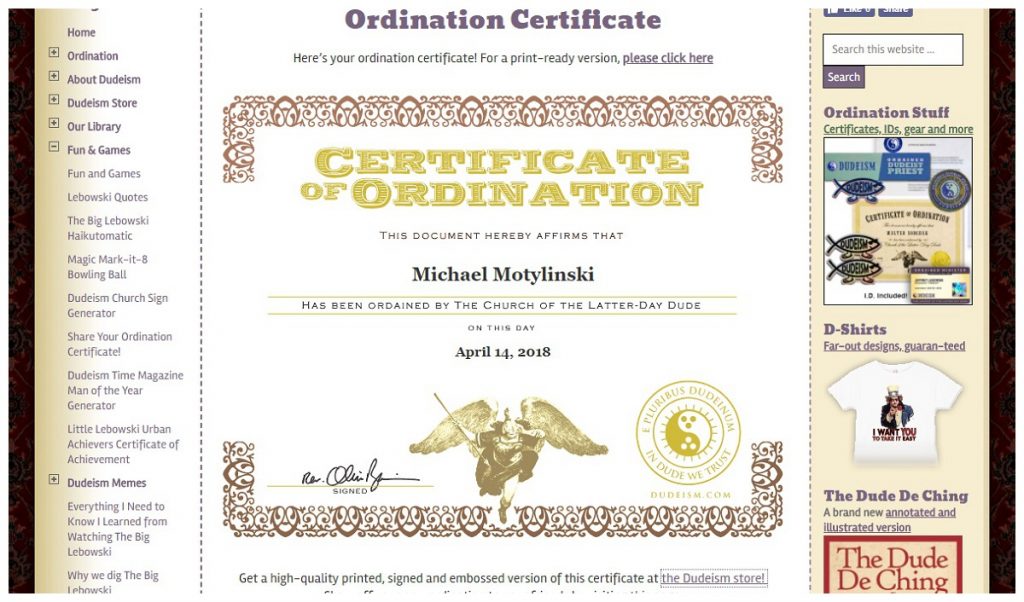 They offer a pretty fun community of folks. According to the website over 450,000 people have been ordained into the church of Dude.
The Dudists also sell t-shirts, magnets, pint glasses, books and more.
Final Note:
All of the above organizations offer a legitimate and legal ordination allowing you to perform weddings.
And there are hundreds of them out there.  But if you want to perform the most beautiful wedding in the world, we believe Wanderlust Bay Ministry is the best option.
If you're ready…